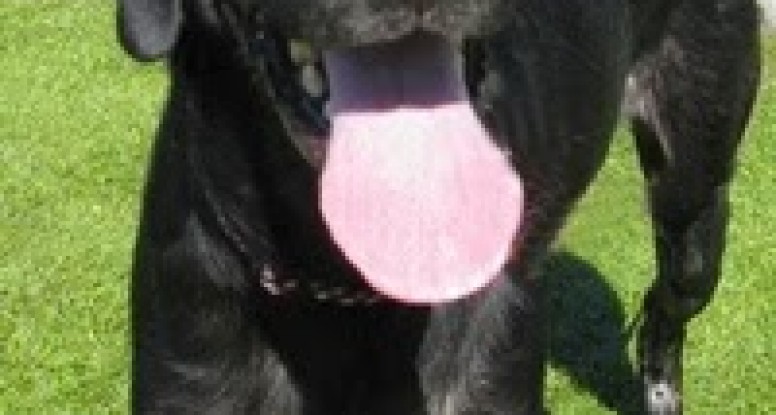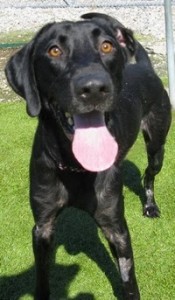 Happy Oscar!
Oscar is an 18 month old neutered black male, who is available for adoption or sponsorship by Lab Rescue. He is up to date on his shots and is heartworm negative. He is good with other dogs and is approved for kids aged 10 and up. He weighs 53 lbs and should gain about 10 lbs.

Update from Oscar's foster family – 11/9/2014

Oscar has developed a maneuver we call the sneaky snuggle. He starts at the opposite end of the couch and looks to be snoozing peacefully. Then he starts to wiggle and wave his front feet. Next thing you know he's wiggled down the couch on his back and his head is in your lap. If you let him, he'll be completely in your lap. Once he gives you the big "I'm so cute" eyes it's impossible to not give in to the snuggles. Oscar is very happy around people, and he's learning not to jump up for attention. He's not bothered by cars, large trucks, bicycles, kids on scooters, runners, or anything else. Mostly Oscar just wants to check out the world, play with all the chew toys, and be as close to his people as possible. He crates easily but prefers to lay on the couch. Oscar is housebroken and quick about going first thing in the morning.

Oscar does okay on an Easy Walk harness. With some encouragement Oscar will sit for treats and takes them well. He also knows come. In true Lab fashion, his tail never stops wagging. Oscar has the sweetest face and despite being underweight, Oscar has a spectacular Lablean. He will go with a training addendum and is probably not the best choice for a first-time adopter. He'd love an active family and lots of places to sniff and play.

Oscar loves to play with other dogs. He would like to retrieve all day but can't play as much as he would like as we want him to take it easy because of his torn ACL. He is going to be a wonderful, gorgeous dog for the family that is willing to give him the training, love, and attention he deserves.
Silly Oscar!
If you have room in your heart or home (and couch) for Oscar, give the wonderful people at Lab Rescue a call.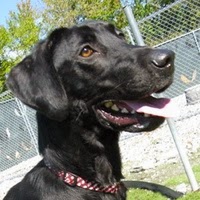 Lovable Oscar!